Following the trends may happen on a regular basis for some but most of our clients make renovation decisions based on necessity and general upkeep of their home. One of these general upkeep chores is painting your ceilings. Some say this should be done every other time you paint your walls in order to keep the ceiling looking bright, whereas others say it should be done at a maximum of every 10 years. This job, one of the least favorite amongst most to-do lists, can be extremely difficult for non-professionals due to the rough texture that has been added to most ceilings since the 1930's. Yes, I'm referring to the infamous "popcorn ceiling". Thankfully, one of the 2019 design trends is a statement ceiling that can transform your usual space into a "wow" space.
Option #1
The first option would be to have the popcorn texture removed and the ceiling painted. Painting the ceiling a shocking accent color maybe isn't as shocking as you may think being as you have to look up to see it, right? You sure don't have to go with a shocking color but perhaps a darker color than the rest of the walls in the same space or a subtle colorful tone to add to a room with neutral walls.
Option #2
A second option to add character to a space would be a wood ceiling. Options are endless with an allover wood ceiling. We provide the materials and can do any color, finish and wood species that you desire whether it be in a shiplap or tongue and groove wood style. How about faux beams for a more subtle rustic charm?
Option #3
A third option would be for the real design risk takers. We can provide unique Designer Stone Panels that could be absolutely stunning for a real "wow" factor in a room. Imagine a beautiful slab of stone in the center of a dining room ceiling bordered by a neutral trim and a simple chandelier protruding out of the center. We are dying for a client to take the plunge and let us assist them in planning a unique design of this sort to really bring out the personality in their home.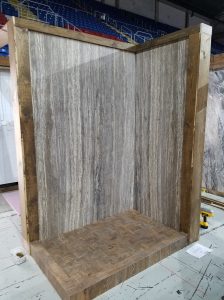 As always the possibilities are endless with our creative team. Stay in touch to see what we can come up with!